21st August 2017 - Eclipse Day
August 21st - Eclipse day. Leaving Basil in Mr G's capable hands (Or so we thought until we saw his twitter posting...!) Richard and I took off for a few days to travel to America to view the solar eclipse. (Jane K)
We flew into Washington, Dulles airport and spent a few days driving south to the North Eastern corner of Georgia. On our journey South, We met people staying in the same motels who were also travelling for this 'once in a lifetime' experience. Our accommodation had been carefully selected some time ago as it was in the path of totality so we would have the maximum opportunity to see the total solar eclipse for 2 minutes 38 seconds at 2.35PM.
We spent the morning looking for the best vantage point, People we met were excited and wishing us "Happy Eclipse Day", finally after wandering around for an hour we decided that outside our cabin would be the best spot. Richard also spent time experimenting with his solar glasses and his welding glass on the best way to photograph the experience. So we were all ready, solar glasses on, and settled down to watch the event when it started at just after 1pm.
As anticipated it started right on time and was looking quite spectacular: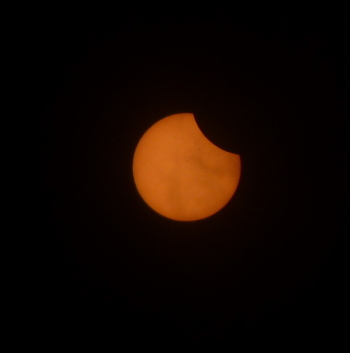 However like a CAUC race day things didn't quite go to plan and someone had invited a lot of rather thick grey clouds to the party. They covered the sun for the best part of an hour including the time of totality so we were not able to see the 'Diamond Ring' or 'Bailey's Beads'. We did experience the darkness that occurred at totality. The ants stopped scurrying around and the sounds of the insects in the trees changed, the Cicadas becoming more noisy as though it was night time.
It felt as though someone was playing with a dimmer switch turning the light slowly off and then slowly back on again. When daylight resumed the daytime sounds resumed again and the ants started scurrying around again.
The clouds lightened after about an hour and we were able to take some pictures of the sun starting to reappear from behind the moon.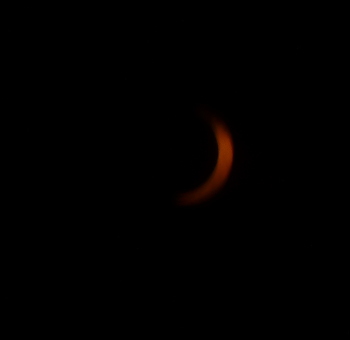 What an experience - can we try again for another one?