Zebedee (2008)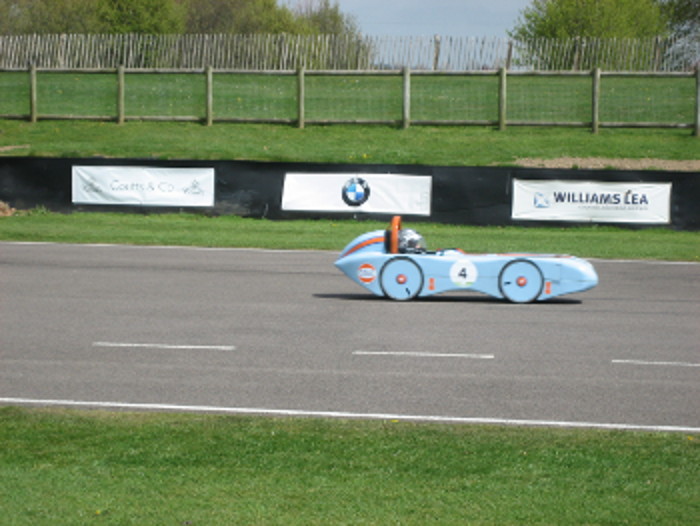 Zebedee
Zebedee won the National final in 2008 and 2010 and is currently in the Beijing Motor Museum promoting greenpower in China.
Zebedee is an altogether more conventional construction compared to Brian. A steel ladder chassis was built (main rails 25mm x 50mm x 1.6mm) with cross members, a battery tray and an aerofoil section rollover bar all MIG welded on. The result is massively strong and reasonably light – because there is no need for local reinforcements at high stress points. The floor, which the driver sits/lies on, is bonded in place using TDK VHB tape and pop-riveted at intervals.
The aerofoil section of the roll bar was produced by a friendly blacksmith. Normal round mild steel exhaust pipe (1.5inch diameter) was rolled flat(~1.2" x 1.8") then one side of the oval hot forged to a sharp 'blade'. The whole was then filled with sand and bent to the required radius in the rollers. It turned out pretty well! Because of the relative narrowness of Zebedee, the brake disc mounting face on the wheel hubs was machined back 6mm - this actually gives us a useful increase in steering lock where the brake discs used to interfere with the chassis. The wheels themselves are built in house because we needed a pronounced 'dish' to achieve the flat outside our aerodynamics call for.The steering system is the same as Brian's except we used smaller 10mm rose joints for the steering pivots. The drive train is mounted directly to the chassis (previous cars have always had a big 6mm aluminium plate for the drive system). This is already clearly superior to, and lighter than, the old system.
Again the Zebedee body is being constructed in a more conventional 3-step process. A positive "buck" is being constructed from MDF and foam and the body mould (in 3 pieces will be pulled from this. The final body panels will then be made from the moulds. Once again we need total accuracy in the buck production and were very fortunate to find that a colleague had just completed a home made 3d CNC routing machine and was looking to 'try it out'. So, all our complex body profiles were cut out, with fantastic accuracy, free of charge.

We re-used the MDF from Brian's mould -so that was free too! We now have a lot of sanding to do on the buck. Various stages of buck production are shown in the build gallery.We are using an epoxy/ glass bubble mix for filler – Mr B loves this stuff.... It doesn't apply as
well or sand as easily as normal filler but it is very hard & rigid when set! We completely covered the finished buck in glass fibre, then sawed the whole thing up into the 3 mould/body sections, - making the mould creation a whole lot simpler and quicker! To get good looks and low friction drag, it is important to have an excellent finish on the final body panels, and that requires close attention to detail every step of the way.
Zebedee general conclusions
Superb car, spawned a host of imitators and won many national trophies, including practically everything in 2010. By the time it retired, it was heavy and dated, old and worn; and it never really sparkled after the battery size reduction. Unbeatable in its heyday, it still holds records for fastest average F24 race speed (36mph Rockingham 2009) and 4hr distance (same race144 miles)
We used polyester gelcoat and epoxy carbon fibre for the body panels. Mistake – shrank differently while curing and always tended to delaminate.